The Challenge
Back in 2015, an esteemed English tea room turned to Arma Communications Inc. with a daunting task at hand. This beloved establishment had garnered a loyal following over the years, with its customers expecting an elevated level of service and authentic British charm. However, the business changed hands and the new owners faced a conundrum: how could they bring the tea room into the modern era while still retaining its distinctive character?
The new owners recognized the significance of upholding the tea room's rich history and retaining its devoted patrons, while also introducing a contemporary touch. Hence, they approached Arma Communications Inc. with a clear set of objectives in mind. They sought a website that would not only be user-friendly for updates on latest news and events but would also mirror the tea room's novel vision and aesthetics.
We were eager to take up this challenge. We were well aware that the website we created needed to not only meet the tea room's practical needs, but also capture the very essence of the business and appeal to its loyal customer base. Our team of marketing and design experts worked closely with the tea room's owners to comprehend their specific requirements and objectives. Together, we developed a customized strategy that catered to their unique needs, ensuring that we would deliver an exceptional outcome.
The Solution
We knew that this project demanded great care and attention to detail. Our team collaborated closely with Brambles Tea Room to understand their specific needs and objectives, with the aim of devising a customized web solution that would ideally suit their business.
We were cognizant that the new website had to be both visually captivating and highly functional, with an emphasis on user experience and ease of navigation. Our design team employed a combination of bold typography, elegant hues, and top-notch imagery to create a harmonious and sophisticated look and feel for the site. Moreover, we integrated modern design elements that aligned with the tea room's fresh vision.
In addition to the aesthetics, we placed a significant emphasis on the website's functional elements, constructing a user-friendly interface that facilitated easy access to all essential information. To simplify things further, we integrated a simple and intuitive backend that enabled the tea room's staff to efficiently update the site with news, events, and other important details.
Our comprehensive approach to the project, which prioritized both the aesthetic and functional aspects of the website, enabled us to deliver a superior product that surpassed Brambles Tea Room's expectations and assisted them in achieving their marketing goals.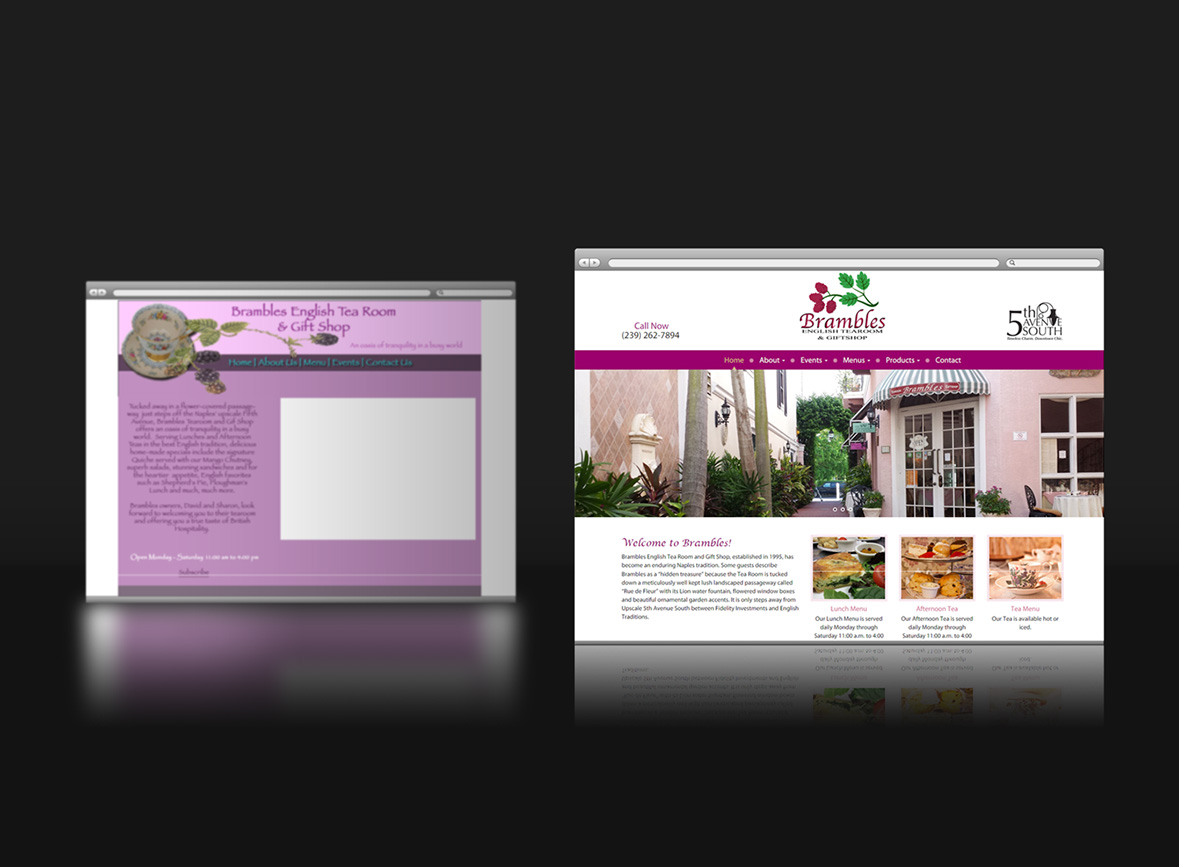 Revising Tradition with a New Online Presence
Keep Customers Informed
Thanks to the new website developed by Arma Communications Inc., Brambles Tea Room has been able to offer a wide range of new teas, host exciting special events, and sell unique and handcrafted products through its online gift shop with ease. We made it a top priority to create a website that would cater to the needs of the tea room's loyal customer base, and keep them informed of the newest products and upcoming events.
By providing customers with up-to-date information on the tea room's latest products and events, we have helped Brambles Tea Room to expand its customer base and generate a substantial amount of sales online. Customers stay up to date about opening hours, menu changes, and special dates. Our work has facilitated better communication between the tea room and its customers, strengthening the relationship and boosting customer loyalty. We take immense pride in being a part of their success, and will continue to work with them to achieve their business goals.
Future-Forward with E-Commerce Capabilities
Brambles Tea Room's exquisite products, particularly their specialty teas, have always been in high demand among customers. However, many of these customers do not reside in the area year-round, or may only have the chance to visit the tea room occasionally. Recognizing this challenge, we set out to develop a solution that would enable the tea room to serve its customers better, regardless of location or frequency of visits.
In 2020, we developed a website for Brambles Tea Room in WordPress, with an eye toward the future. We built it to be future-forward, allowing for a shopping cart feature to be added later, in line with their long-term objectives. The website's user-friendly interface and engaging design have attracted customers and kept them coming back for more.
Building on this success, in 2018, after consulting with the client to determine the best fit for their needs, we completed an upgrade of the shopping cart feature into their existing WordPress website. This upgrade allowed the tea room to expand its customer base and increase its bottom line by generating more sales through its online store.
As a result of these efforts, Brambles Tea Room has been able to enhance its online presence, connect with customers worldwide, and increase sales of its specialty teas and other products. We are proud to have played a part in the tea room's success, and look forward to helping them achieve even greater heights in the future.